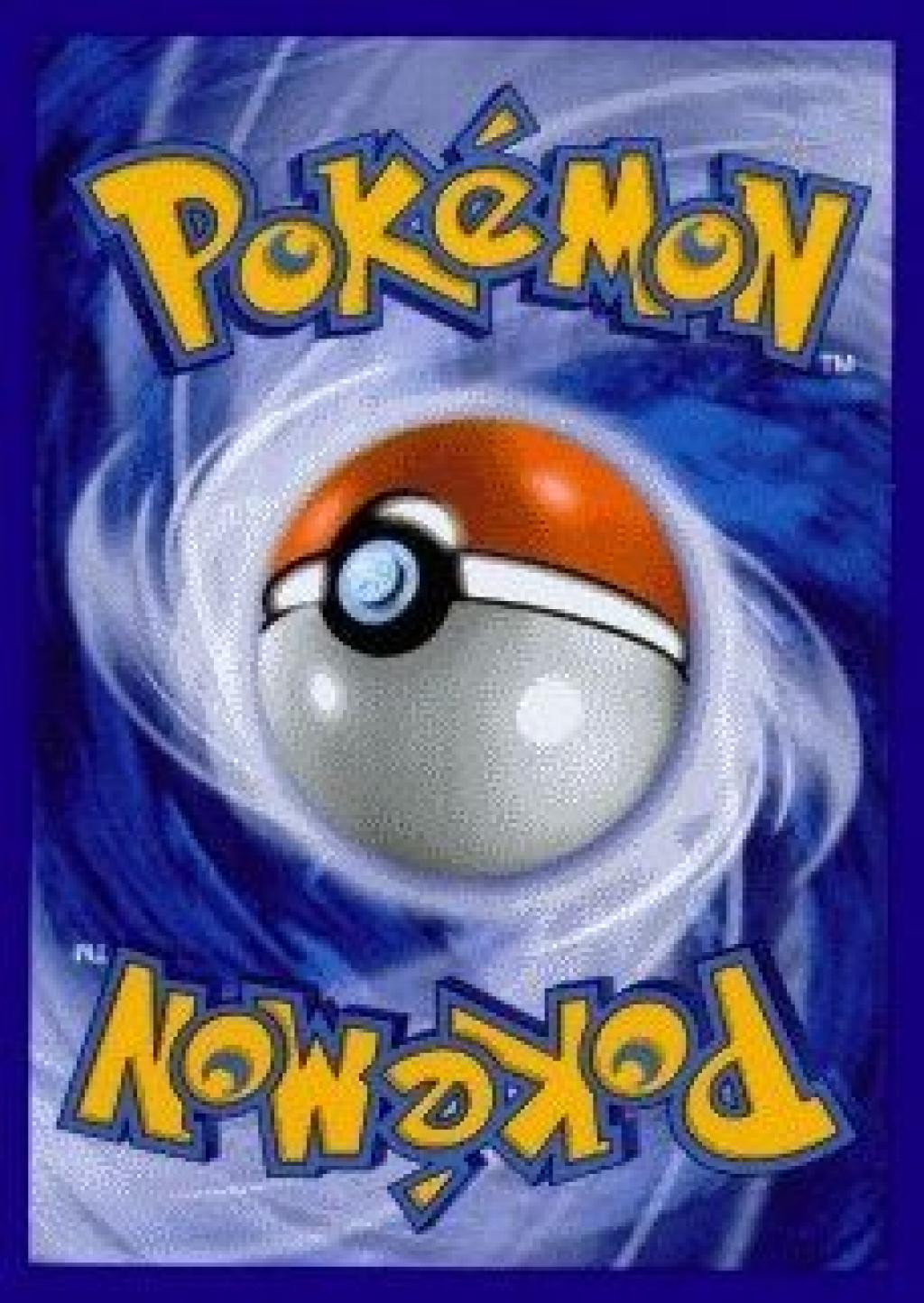 Původní název hry
Pokémon Trading Card Game
Board Game Geek score
Pokémon TCG
Hodnocení hry na BoardGameGeek.com na základě
3539
recenzí uživatelů.
Týdenní návštěvnost hry
+ Do srovnávače
Pokémon TCG
---
---
Kategorie
---
Mechanika hry
Originální popis hry
HERNÍ SYSTÉM
Tato položka slouží k diskusi/hodnocení herního systému jako celku. Nejedná se o konkrétní produkt nebo vydání. Verze se objeví na stránkách jednotlivých položek.
Pokémon je sběratelská karetní hra založená na japonském anime, která našla úspěch na mezinárodním poli a je jednou z nejdéle přežívajících CCG her v současnosti. Pokémon byla jednou z prvních sběratelských karetních her, která nabídla nějakou konkurenci dominantnímu postavení Magic: The Gathering na trhu.
Mnoho lidí, kteří si tento produkt koupí, často hru nehraje a místo toho se rozhodnou sbírat své oblíbené postavy ze série, na níž je hra založena.
Každý hráč hraje roli trenéra Pokémonů, který pomocí svých Pokémonů bojuje proti Pokémonům jiných trenérů Pokémonů.
Cílem hry je zahrát své karty Pokémonů, které představují různé tvory, a být prvním hráčem, který "vyřadí" (porazí) šest soupeřových Pokémonů. Hrajete s balíčkem šedesáti karet, které obsahují vaše Pokémony, karty trenérů a karty energie. Karty trenérů ovlivňují hru, hráče nebo Pokémony různými způsoby, většinou dočasně, zatímco karty energie slouží ve hře jako zdroje.
Hru začínáte tím, že si dobíráte sedm karet do ruky. Každý hráč si z ruky vybere základního Pokémona a položí ho před sebe na začátek. Ten se nazývá aktivní Pokémon a je to ten, se kterým se právě vede souboj. Hráči mohou umístit i další základní Pokémony, aby zaplnili pět míst na své "lavičce". Šest karet je pak odloženo stranou a slouží jako karty odměn. Pokaždé, když porazíte jednoho ze soupeřových Pokémonů, můžete si jednu z těchto karet odměn vytáhnout.
Hráči se střídají v tazích, během nichž mohou:
dobrat si kartu z balíčku do ruky
hrát akce:
Umístit základní Pokémony ve hře z ruky na lavičku
Vyvinout své Pokémony
Připojit kartu energie k jednomu ze svých Pokémonů (jednou za tah)
Zahrát karty trenérů (pouze 1 kartu stadionu a 1 kartu příznivce za tah)
Ustoupit se svým aktivním Pokémonem;mona (jednou za tah - vymění si místo s jedním na lavičce (obvykle za cenu karet energie))
Používat schopnosti
Útočit
Kromě karet základních Pokémonů existují také karty Evoluce, které znázorňují vyvinuté formy základních Pokémonů (nebo někdy jiné vyvinuté Pokémony). Hráč může vyvinout Pokémona tak, že položí odpovídající kartu Evoluce na jinou kartu Pokémona ve hře. To lze provést pouze jednou za tah na jednoho Pokémona, a to pouze tehdy, pokud byl Pokémon ve hře alespoň jeden celý tah. Evolvovaný Pokémon si ponechá všechna poškození a karty energie, ale ztratí všechny speciální podmínky, které se ho týkají, a text karty zcela nahradí předchozí kartu.
Poslední akcí, kterou hráč během svého tahu provede, pokud se tak rozhodne, je, že jeho aktivní Pokémon použije jednu ze svých schopností k útoku na aktivního Pokémona jiného hráče. Útok lze použít pouze tehdy, pokud má Pokémon přiloženo dostatečné množství karet energie správného typu, aby splnil požadavky na útok; každý útok má různé požadavky a efekty, které jsou uvedeny na kartě. Většina útoků způsobí bránícímu se Pokémonovi určité poškození; pokud je poražen, je nahrazen jiným Pokémonem z lavičky a útočník si dobere kartu odměny. Pokud si útočník vytáhne poslední kartu odměny nebo pokud obránce nemůže nahradit aktivního Pokémona (kvůli prázdné lavičce), útočník vyhrál hru.
K dispozici je mnoho různých druhů Pokémonů a několik různých forem každého z nich, každý s jinými útoky, schopnostmi a vlastnostmi, což umožňuje mnoho různých možných výsledků. Musíte je všechny posbírat!
Automatický překlad
---
GAME SYSTEM This entry is to allow for discussion/rating of the game system as a whole. It is not for a specific product or release. Versions will appear on the individual item pages. Pokémon is a Collectible Card Games based upon Japanese anime that have found success internationally, and is one of the longest surviving CCGs currently available. Pokémon was one of the first Collectible Card Games to offer any competition to the market dominance of Magic: The Gathering. Many people who buy the product often do not play the game, choosing instead to collect their favorite characters from the franchise the game is based upon. Each player plays the role of a Pokémon trainer that use their Pokémon creatures to battle the Pokémon creatures of the other Pokémon trainer. The object of the game is to play your Pokémon cards, that represent different creatures, and be the first player to "knock out" (defeat) six opposing Pokémon. You play the game with a deck of sixty cards that include your Pokémon, as well as Trainer cards and Energy cards. Trainer cards affect the game, players, or Pokémon in different ways, most of them temporary, while Energy cards act as the resources in the game. You start the game by drawing seven cards to your hand. Each player picks a Basic Pokémon from their hand and places it in front of them to start. This is called the Active Pokémon and is the one currently dueling. Players can also place other Basic Pokémon to fill up the five slots on their "Bench". Six cards are then set aside to act as Prize cards. Each time you defeat one of your opponent's Pokémon, you get to draw one of these Prize cards. Players take alternating turns during which they can: Draw a card from their deck to their hand Play Actions: Put Basic Pokémon in play from their hand to their Bench Evolve their Pokémon Attach an Energy card to one of their Pokémon (once per turn) Play Trainer cards (Only 1 Stadium card and 1 Supporter card per turn) Retreat their Active Pokémon (once per turn - trade places with one on the Bench (usually at the cost of Energy cards)) Use Abilities Attack In addition to Basic Pokémon cards, there are also Evolution cards, which depict evolved forms of Basic Pokémon (or sometimes other Evolved Pokémon). A player can evolve a Pokémon by laying a corresponding Evolution card onto another Pokémon card in play. This can only be done once per turn per Pokémon, and only if the Pokémon has been in play at least one entire turn. The Evolved Pokémon retains any damage and Energy cards, but loses any Special Conditions affecting it, and the card text completely replaces the previous card. The last action a player takes during their turn, if they choose, is to have their Active Pokémon use one of its abilities to attack the other player's Active Pokémon. Attacks can only be used if the Pokémon has enough Energy cards of the right type attached to it to meet the requirements for the attack; each attack has different requirements and effects that are listed on the card. Most attacks will do some amount of damage to the Defending Pokémon; if defeated, the Defending Pokémon is replaced with another Pokémon from the Bench, and the attacker draws a Prize card. If either the attacker draws their last Prize card or the Defender cannot replace the Active Pokémon (due to an empty Bench), the attacker has won the game. There are many different varieties of Pokémon available and several different forms of each one, each with different attacks, abilities and characteristics, allowing for many different possible outcomes. Gotta collect 'em all!
Fotogalerie
Žádné obrázky nebyly vloženy.
Pravidla
Žádné soubory nebyly vloženy.
Soubory
Žádné soubory nebyly vloženy. Pokud hledáte pravidla, můžou být ve vedlejší záložce ke hře.
3D Tisk
Žádné soubory pro 3D tisk nebyly vloženy.
---