Pathfinder Adventure Card Game: Rise of the Runelords – Base Set
desková hra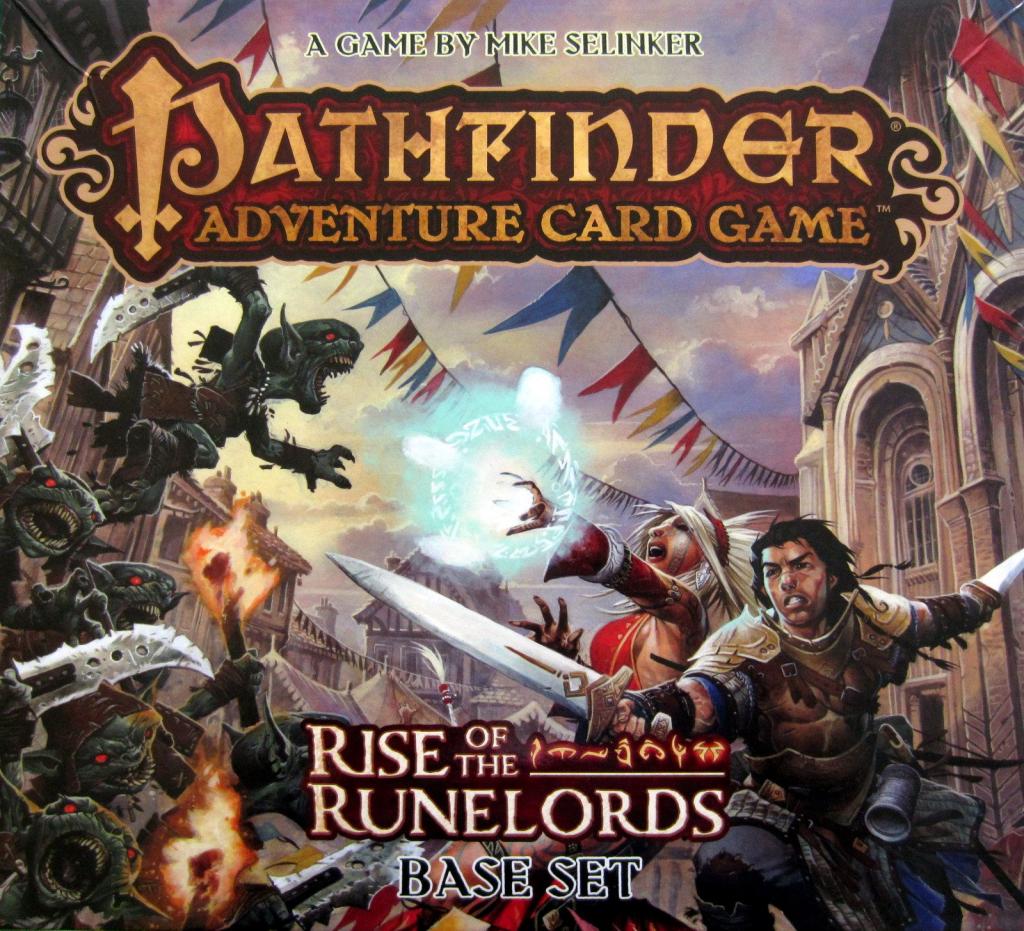 Původní název hry
Pathfinder Adventure Card Game: Rise of the Runelords – Base Set
Board Game Geek score
Pathfinder Adventure Card Game: Rise of the Runelords – Base Set
Hodnocení hry na BoardGameGeek.com na základě
12156
recenzí uživatelů.
Týdenní návštěvnost hry
+ Do srovnávače
Pathfinder Adventure Card Game: Rise of the Runelords – Base Set
---
---
Kategorie
---
Mechanika hry
Originální popis hry
Ve starobylé zemi Varisia se probouzí zapomenuté zlo. Temná magie opět doutná uprostřed rozpadajících se ruin, obři se shromažďují v titánských armádách, kultisté vraždí ve jménu odporných božstev a maniakální skřeti plánují ohnivý konec mírumilovného města Sandpoint. Zahajte kampaň, abyste se postavili zlu sužujícímu Varisi s karetní hrou Pathfinder Adventure Card Game: Rise of the Runelords - základní sada. Tato kompletní kooperativní strategická karetní hra postaví 1 až 4 hrdiny proti nástrahám, nestvůrám, smrtící magii a podlým nepřátelům z oceňované dobrodružné stezky Pathfinder Roleplaying Game: Rise of the Runelords. V této hře se hráči ujímají role fantasy postavy, například tuláka nebo čaroděje, přičemž každý z nich má různé schopnosti a dovednosti, které jsou reprezentovány kartami v jejich balíčku. Klasické skóre schopností (síla, obratnost atd.) se přiřazuje pomocí kostek různých velikostí. Hráči mohou získávat spojence, kouzla, zbraně a další předměty. Cílem je najít a porazit padoucha před uplynutím určitého počtu tahů, přičemž padouch je reprezentován vlastním balíčkem karet doplněným o výzvy a nepřátele, které je třeba překonat. Postavy po každé hře sílí, do svých balíčků přidávají jedinečné vybavení a úžasná kouzla a získávají neuvěřitelné schopnosti, které budou potřebovat, aby se mohly postavit větším hrozbám v kompletní dobrodružné stezce karetní hry Pathfinder Adventure Card Game. Dobrodružná karetní hra Pathfinder je rozšiřitelná hra, přičemž první sada obsahuje téměř 500 karet. Rise of the Runelords - základní sada podporuje 1 až 4 hráče; přídavný balíček 110 karet postav rozšiřuje možný počet hráčů na 5 nebo 6 a přidává další možnosti postav pro libovolný počet hráčů. Hra bude rozšířena o dvouměsíční balíčky dobrodružství se 110 kartami. Errata: V dřívějších výtiscích byla karta kořisti "Sihedron Medallion" uvedena jako karta patřící do "B" (pro základní sadu). Místo toho má být uvedeno "1" (pro Burnt Offerings ). (Není známo, zda to bylo v pozdějších vydáních opraveno)
Automatický překlad
---
A forgotten evil stirs in the ancient land of Varisia. Dark magic once more thrums amid crumbling ruins, giants gather in titanic armies, cultists murder in the name of foul deities, and maniacal goblins plot a fiery end for the peaceful town of Sandpoint. Launch a campaign to strike back against the evils plaguing Varisia with the Pathfinder Adventure Card Game: Rise of the Runelords - Base Set. This complete cooperative strategy card game pits 1 to 4 heroes against the traps, monsters, deadly magic, and despicable foes of the Pathfinder Roleplaying Game's award-winning Rise of the Runelords Adventure Path. In this game players take the part of a fantasy character such as a rogue or wizard, each with varying skills and proficiencies that are represented by the cards in their deck. The classic ability scores (Strength, Dexterity, etc.) are assigned with different sized dice. Players can acquire allies, spells, weapons, and other items. The goal is to find and defeat a villain before a certain number of turns pass, with the villain being represented by its own deck of cards complete with challenges and foes that must be overcome. Characters grow stronger after each game, adding unique gear and awesome magic to their decks, and gaining incredible powers, all of which they'll need to challenge greater threats in a complete Pathfinder Adventure Card Game Adventure Path. The Pathfinder Adventure Card Game is an expandable game, with the first set containing nearly 500 cards. The Rise of the Runelords - Base Set supports 1 to 4 players; a 110-card Character Add-On Deck expands the possible number of players to 5 or 6 and adds more character options for any number of players. The game will be expanded with bimonthly 110-card adventure decks. Errata: Early printings had the Loot card "Sihedron Medallion" listed as belonging to "B" (for Base Set). It is instead supposed to read "1" (for Burnt Offerings ). (It is unknown if this has been fixed in later printings)
Fotogalerie
Žádné obrázky nebyly vloženy.
Pravidla
Žádné soubory nebyly vloženy.
Soubory
Žádné soubory nebyly vloženy. Pokud hledáte pravidla, můžou být ve vedlejší záložce ke hře.
3D Tisk
Žádné soubory pro 3D tisk nebyly vloženy.
Bazar deskových her
Pathfinder Adventure Card Game: Rise of the Runelords (Base a rozšíření)

Prodejce reroll
3500 Kč

2835 Kč
---