Android: Netrunner
desková hra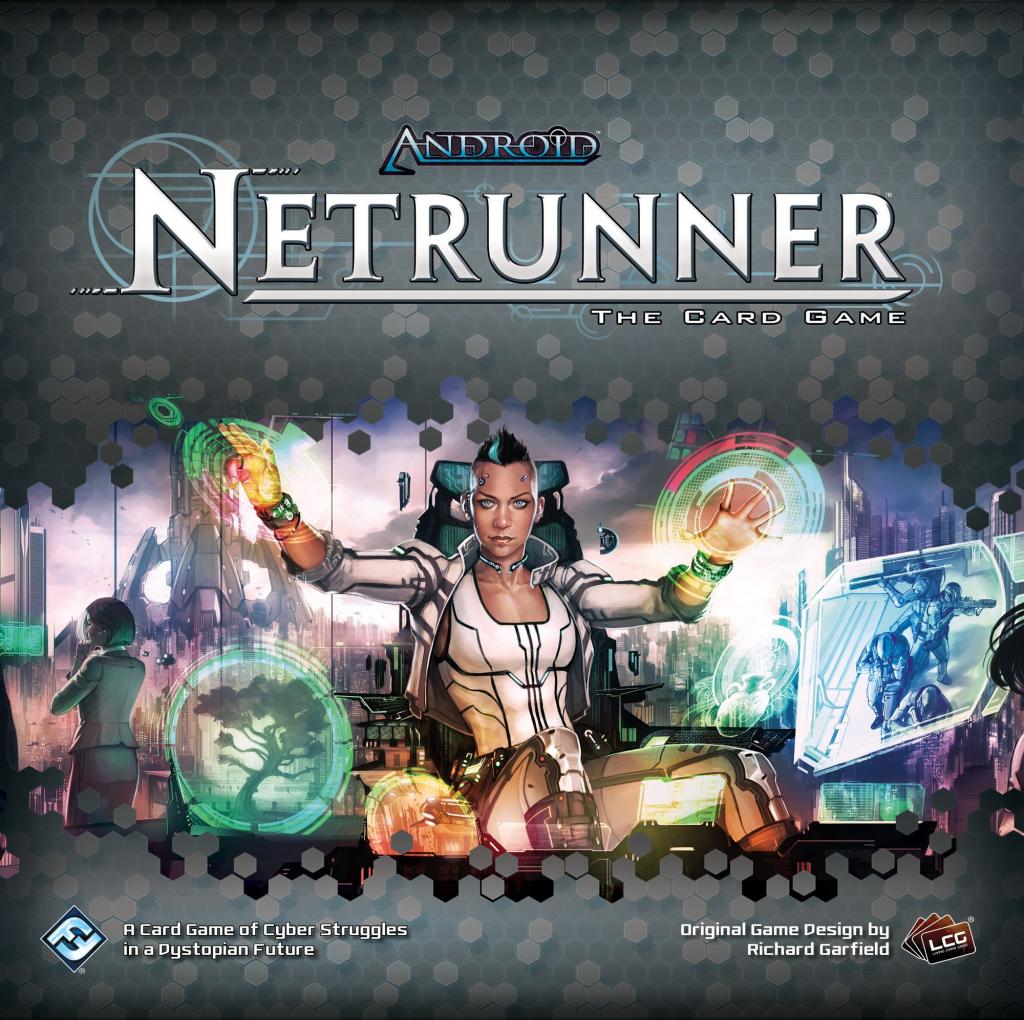 Původní název hry
Android: Netrunner
Board Game Geek score
Android: Netrunner
Hodnocení hry na BoardGameGeek.com na základě
27110
recenzí uživatelů.
Týdenní návštěvnost hry
+ Do srovnávače
Android: Netrunner
---
---
Kategorie
---
Mechanika hry
Originální popis hry
Vítejte v Novém Angeles, domově fazolového stonku. Z našich poboček v tomto monumentu lidských úspěchů NBN hrdě vysílá všechny vaše oblíbené mediální programy. Nabízíme plně komplexní streamování v oblasti hudby a threedee, zpráv a sitcomů, klasických filmů a senzací. Pokrýváme vše. Náš věk je odvážný, a protože lidstvo se každým dnem řítí do vesmíru a budoucnosti s ohromující řadou nových vymožeností, NBN a naše pobočky drží krok a přinášejí vám veškerá videa, která se hodí ke sledování. Android: Netrunner je asymetrická živá karetní hra pro dva hráče. Hra se odehrává v kyberpunkové budoucnosti Androidu a Infiltrace a staví proti sobě megakorporace a jejich obrovské zdroje proti podvratným talentům osamělých runnerů. Korporace se snaží získat body tím, že je prosazují. K tomu je zapotřebí čas a kredity. Aby získaly potřebný čas a kredity, musí zabezpečit své servery a datové pevnosti pomocí "ledu". Tyto bezpečnostní programy se vyskytují v různých variantách, od jednoduchých bariér až po kódové brány a agresivní hlídky. Slouží jako virtuální oči, uši a kulomety korporace na rozlehlých informačních superdálnicích sítě. Na oplátku musí běžci trávit svůj čas a kredity získáváním dostatečného bohatství zdrojů, nákupem potřebného hardwaru a vývojem vhodně výkonných ledových programů, aby se mohli nabourat přes bezpečnostní opatření korporace. Jejich práce je vždy trochu zoufalá, řídí se napjatými časovými limity a je zahalena tajemstvím. Když se runner připojí a spustí útok na firemní server, riskuje, že jeho nejlepší programy budou zničeny nebo že bude zachycen sledovacím programem a zůstane zranitelný vůči firemním protiopatřením. Nezřídka se stává, že nepřipravený runner nedokáže obejít nepříjemnou hlídku a utrpí v důsledku toho masivní poškození mozku. I když se běžec dostane přes obranu datové pevnosti, nelze říci, co se v ní skrývá. Někdy běžec najde něco cenného. Někdy se mu podaří nejlépe pracovat na zničení toho, co korporace vyvíjela. První hráč, který dosáhne sedmi bodů, vyhrává hru, ale pravděpodobně ne dříve, než utrpí nějaké poškození mozku nebo špatnou publicitu. Revidovaná základní sada pro Android: Netrunner vydaná koncem roku 2017 obsahuje karty z původní základní sady vydané v roce 2012 a také karty ze série datových balíčků Genesis Cycle a Spin Cycle. Přestože karty v této sadě byly vydány již dříve, kresby na některých z nich jsou nové.
Automatický překlad
---
Welcome to New Angeles, home of the Beanstalk. From our branch offices in this monument of human achievement, NBN proudly broadcasts all your favorite media programming. We offer fully comprehensive streaming in music and threedee, news and sitcoms, classic movies and sensies. We cover it all. Ours is a brave new age, and as humanity hurtles into space and the future with an astonishing series of new advances every day, NBN and our affiliates are keeping pace, bringing you all the vid that's fit to view. Android: Netrunner is an asymmetrical Living Card Game for two players. Set in the cyberpunk future of Android and Infiltration, the game pits a megacorporation and its massive resources against the subversive talents of lone runners. Corporations seek to score agendas by advancing them. Doing so takes time and credits. To buy the time and earn the credits they need, they must secure their servers and data forts with "ice". These security programs come in different varieties, from simple barriers, to code gates and aggressive sentries. They serve as the corporation's virtual eyes, ears, and machine guns on the sprawling information superhighways of the network. In turn, runners need to spend their time and credits acquiring a sufficient wealth of resources, purchasing the necessary hardware, and developing suitably powerful ice-breaker programs to hack past corporate security measures. Their jobs are always a little desperate, driven by tight timelines, and shrouded in mystery. When a runner jacks-in and starts a run at a corporate server, he risks having his best programs trashed or being caught by a trace program and left vulnerable to corporate countermeasures. It's not uncommon for an unprepared runner to fail to bypass a nasty sentry and suffer massive brain damage as a result. Even if a runner gets through a data fort's defenses, there's no telling what it holds. Sometimes, the runner finds something of value. Sometimes, the best he can do is work to trash whatever the corporation was developing. The first player to seven points wins the game, but not likely before he suffers some brain damage or bad publicity. The Revised Core Set for Android: Netrunner released in late 2017 includes cards from the original Core Set released in 2012 as well as cards from the Genesis Cycle and Spin Cycle series of Data Packs. While the cards in this set have been released previously, the art on some of them is new.
Fotogalerie
Žádné obrázky nebyly vloženy.
Pravidla
Žádné soubory nebyly vloženy.
Soubory
Žádné soubory nebyly vloženy. Pokud hledáte pravidla, můžou být ve vedlejší záložce ke hře.
3D Tisk
Žádné soubory pro 3D tisk nebyly vloženy.
---