Cards Against Humanity
desková hra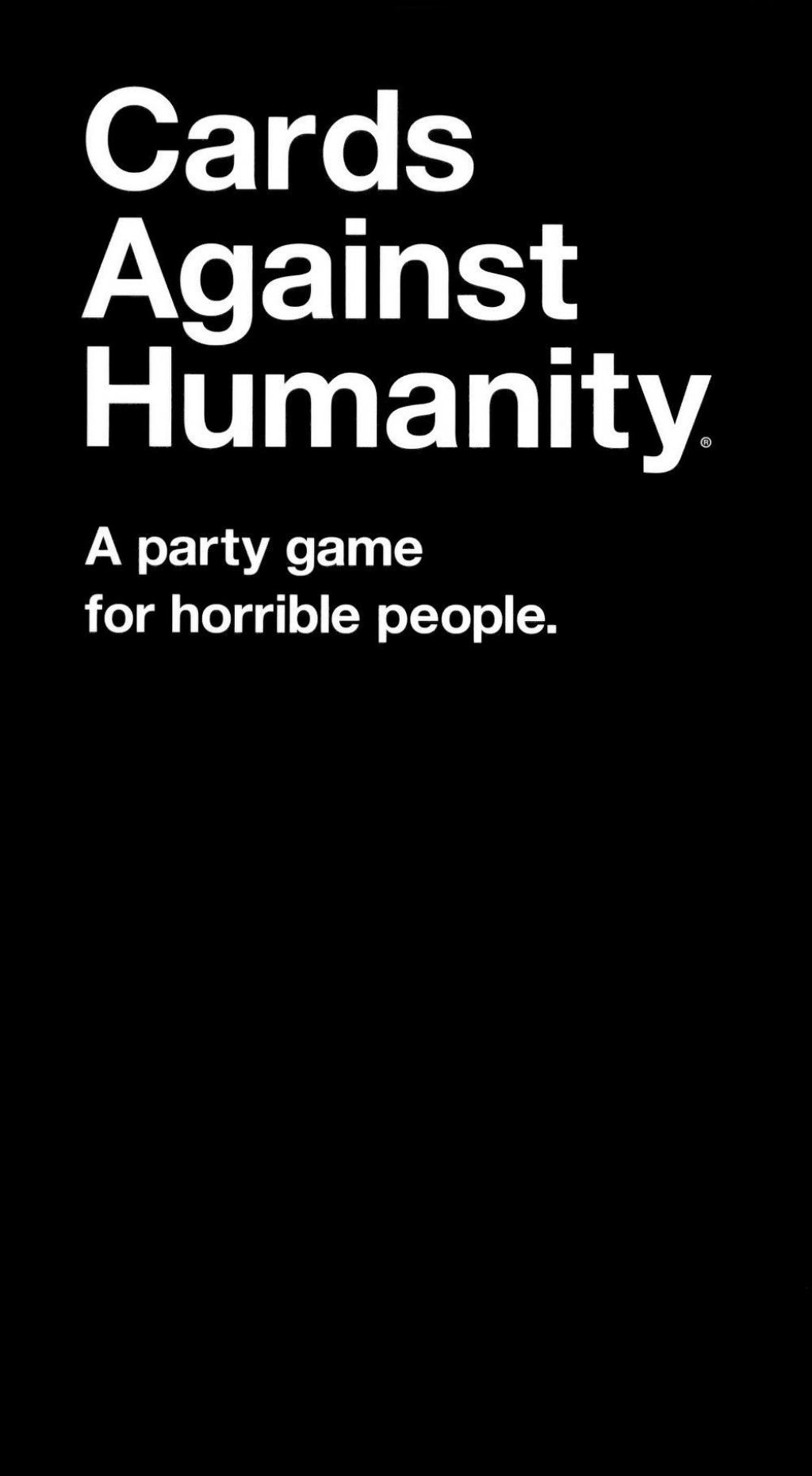 Původní název hry
Cards Against Humanity
Board Game Geek score
Cards Against Humanity
Hodnocení hry na BoardGameGeek.com na základě
23806
recenzí uživatelů.
Týdenní návštěvnost hry
+ Do srovnávače
Cards Against Humanity
---
---
Kategorie
---
Mechanika hry
Originální popis hry
"Párty hra pro hrozné lidi." Hra začíná tím, že rozhodčí, známý jako "Car karet", vybere z vrcholu balíčku černou kartu s otázkou nebo vyplněním prázdného políčka a ukáže ji všem hráčům. Každý hráč má na začátku každého kola v ruce deset bílých karet odpovědí a předá kartu (někdy i dvě) lícem dolů karetnímu carovi, která představuje jeho odpověď na otázku na kartě. Kartový car určí, která karta či karty odpovědí jsou v kontextu otázky nebo vyplňovací karty nejvtipnější. Hráč, který předložil vybranou kartu (karty), dostane kartu s otázkou, která představuje "Úžasný bod", a poté se hráč po levici nového karetního cara stává novým carem pro další kolo. Hra pokračuje, dokud se hráči nedohodnou na ukončení, a v tu chvíli se hráč s největším počtem Úžasných bodů stává vítězem." Tohle zatím zní jako populární a poměrně neškodné Jablka proti jablkům. Hry jsou si sice podobné, ale potřebný smysl pro humor je velmi odlišný. Hra vybízí hráče k tomu, aby si dělali legraci prakticky z každého trapného nebo tabuizovaného tématu, včetně rasy, náboženství, pohlaví, chudoby, mučení, alkoholismu, drog, sexu (ach ano), potratů, zneužívání dětí, celebrit a těch každodenních drobných nepříjemností, jako je "Očekávání říhnutí a zvracení na podlahu". Kromě toho je zde několik pravidel navíc. Za prvé, některé karty s otázkami jsou "Vyber 2" nebo karty, které vyžadují, aby každý účastník předložil postupně dvě karty, aby doplnil svou odpověď. Za druhé, existuje také hazardní složka. Pokud se hraje otázka, u které se hráč domnívá, že má dvě možné výherní odpovědi, může vsadit Úžasný bod, aby zahrál jedinou druhou odpověď. Pokud hráč, který vsadil, vyhraje, zůstane mu vsazený bod, ale pokud prohraje, hráč, který přispěl vítěznou odpovědí, si vezme oba body. Z webových stránek: "Cards Against Humanity je šířena pod licencí Creative Commons Attribution-Noncommercial-Share Alike - to znamená, že hru můžete zdarma používat a remixovat, ale nesmíte ji prodávat. Neváhejte nás kontaktovat na adrese cardsagainsthumanity@gmail.com."
Automatický překlad
---
"A party game for horrible people." Play begins with a judge, known as the "Card Czar", choosing a black question or fill-in-the-blank card from the top of the deck and showing it to all players. Each player holds a hand of ten white answer cards at the beginning of each round, and passes a card (sometimes two) to the Card Czar, face-down, representing their answer to the question on the card. The card czar determines which answer card(s) are funniest in the context of the question or fill-in-the-blank card. The player who submitted the chosen card(s) is given the question card to represent an "Awesome Point", and then the player to the left of the new Card Czar becomes the new Czar for the next round. Play continues until the players agree to stop, at which point the player with the most Awesome Points is the winner. This, so far, sounds like the popular and fairly inoffensive Apples to Apples. While the games are similar, the sense of humor required is very different. The game encourages players to poke fun at practically every awkward or taboo subject including race, religion, gender, poverty, torture, alcoholism, drugs, sex (oh yes), abortion, child abuse, celebrities, and those everyday little annoyances like "Expecting a burp and vomiting on the floor". In addition, there are a few extra rules. First, some question cards are "Pick 2" or cards, which require each participant to submit two cards in sequence to complete their answer. Second, a gambling component also exists. If a question is played which a player believes they have two possible winning answers for, they may bet an Awesome Point to play a single second answer. If the player who gambled wins, they retain the wagered point, but if they lose, the player who contributed the winning answer takes both points. From the website: "Cards Against Humanity is distributed under a Creative Commons Attribution-Noncommercial-Share Alike license - that means you can use and remix the game for free, but you can't sell it. Feel free to contact us at cardsagainsthumanity@gmail.com."
Fotogalerie
Žádné obrázky nebyly vloženy.
Pravidla
Žádné soubory nebyly vloženy.
Soubory
Žádné soubory nebyly vloženy. Pokud hledáte pravidla, můžou být ve vedlejší záložce ke hře.
3D Tisk
Žádné soubory pro 3D tisk nebyly vloženy.
---